Anatomy
Layer-by-layer dissection
Digital anatomical models offer layer-by-layer dissection and selective removal of anatomical parts, enhancing teaching tools and deepening students' understanding of different body structures.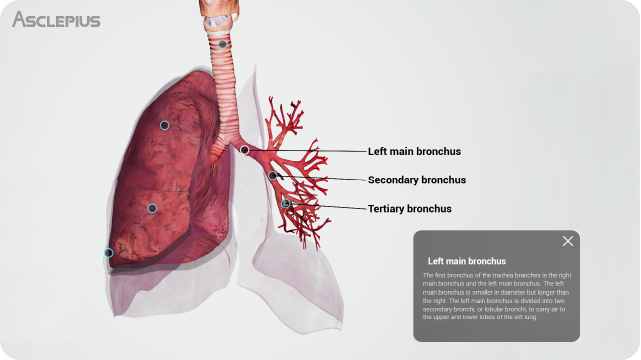 Complete annotations of human anatomy
Our digital anatomical models feature complete life-sized male and female cadaver models with comprehensive annotations of all body regions. They offer different planes of view, including coronal, sagittal, and transverse, providing detailed insights into the depths of the human body.
Virtual Interactive Dissection Tool
Virtual anatomy tool is one of the key features in anatomy, providing touch-enabled virtual dissection with comprehensive annotations. Virtual dissection is poised to replace traditional anatomy labs as it allows for repeated use without concerns of damaging physical specimens.
Sectional Anatomy
Equipped with real frozen cross-sectional slices of male and female bodies, the system allows for the visualization of a 3D virtual human, enabling the examination of anatomical structures from various perspectives, including coronal, sagittal, and transverse planes.
Animated tutorials
It has heart animation with complete annotations, introduces various parts of the heart, simulates heart beat, and can view the sagittal, coronal, and cross-sections of the heart to gain an in-depth understanding of heart function. More animation teaching will be updated with the software in the future.
Examination
Asclepius also provides an online examination system to assess users' understanding of the learning content. Through the teacher login system, educators can design and publish exams to gain insights into students' learning progress.online examination system. Teachers log in to the system to design and publish the examination, so as to understand the students' learning situation.
Brush
The brush function allows teachers to mark or write text for assistance during the teaching process, and can take screenshots and save them in an external USB, which can be used in other courses or in the production of teaching presentations.
Virtual Endoscope
Provides the endoscopic function of the large intestine, digestive tract, respiratory tract and vagina, and attaches multiple real endoscopic videos as references.
Select
Users can click on any part to view its name and introduction, and can hide the selected part or display it independently to better understand the relationship between organizations.
Random cut
Users can draw any shape for cutting, choose to cut a single part, or choose to penetrate the whole human body to observe the direct relationship between human body systems.